Tuesday, June 19, 2007

Gate World to post a SG-1 Memorial
Hi gang....

You all need to stop by
this thread
(
GateWorld Wants Your SG-1 Memories!)
and help Darren out.
He is trying to get a Memorial put together for SG-1 Final Farewell and needs all you faithful members to lend your support.
So stop in and tell YOUR Stargate story
Thanks Gaters!!!!!!!!!!!
see ya on the flipside

Posted by Tame :-) @ 7:53 PM | LINK |





Friday, June 15, 2007

Super Soldier Costume ..One.Piece.at. a. Time.
well it seems I am trying to live out my Star Gate fantasies here at home. YES I am *Star Gate Dressing*
This is my first piece of equipment. I think I shall become a *Super Soldier* or better Yet SUPER MOD!!!!! hehehehehe
Apparently in all the work we have been doing on the SGC I have somehow fractured three bones on the top of my foot. Only me...sheesh
So I will be gimping around and trying to help Mr Tame get the next phase of our project done this weekend, laying a stone patio and walkway and putting up a redwood fence. We'll see how that goes.
Better still there is a NEW EPISODE of Star Gate on tonight so I am excited about that.
With my new Super Mod suit I see no reason not to go forth and kick some butt so beware all you trouble makers I am feeling pretty invincible with this new apparatus to give you the *Boot* ....hee hee I crack myself up.
There is a few on my list already but more just cause I want to than because they are really trouble makers so I guess I will restrain myself, I hate that I have ethics sometimes....*shakes head*
Anyway...enjoy tonights eppy and I will see ya on the flipside!

Posted by Tame :-) @ 11:18 AM | LINK |





Monday, June 11, 2007

Vala and Her Dad - Happy Updates on the SGC

HI
Spoilers for *Family Ties*
Last weeks episode actually surprised me a bit. Not with its major twists and turns but with its consistency and the little surprise ending that I thought had fallen to the wayside in the SG universe.
Claudia Black has just embraced Vala Maldoran and it shows. Unless the script is just horribly written, Claudia IS Vala week in and week out.I never find myself thinking *this actress does a good job playing this role* during the show, instead I find I myself thinking *oh goodness WHAT is Vala up to now or WHAT is Vala going to do with THAT?* I believe in the character BECAUSE the actress has done such a fantastic job.
So this week was no different. Vala dealing with her Dad was funny, sweet, heart-wrenching and sad. Fred Willard was a surprising choice but he pulled it off most of the time and didn't pull me out of the story too often.
I was surprised at the bait and switch over the cargo ship. Why?? Definitely NOT because it was original or new. But because I just no longer thought the PTB let *Our Guys* win LOL and they always seem to be setting up things to have the character as re-occurring. I forgot that since this is the final season they probably wouldn't be doing that so I was pleasantly surprised to have our SG-1 of days of old thwarting the baddies. It was a nice change of pace from the predictable....."Lets Set-Up things to have this character return" story line that has gone on for the past few years.
The one good thing that has come out of the announcement that SG-1 is now done ( I hate typing that *C* word)is Season 10 has had a feel of the *Better Days* of Star Gate. The overall writing has been better, the shows funnier and I know I have just enjoyed myself more in seasons 9 and 10 than I did in Seasons 7 & 8. Could be because I scaled back alot of my *fandom* activities and didn't spoil myself near as much either, so things were more of a surprise and I had no preconceived notions for 9&10 like I did for 7 & 8. So there is alot to be said about that aspect as well.
I am looking forward to the SG movies and I definitely am not spoiling myself for those either.
On another quick note many of you already know Mr Tame and I have been busy creating our own SGC (Sweet Garden Central)and I have posted a couple of pictures around the Forum of our first completed project.
I am really proud of all of the hard work that went into getting us to this point. First having the "Fab Four* work their tails off to remove the spirit of Fred Sanford from my backyard. Then myself and Mr Tame working diligently to create this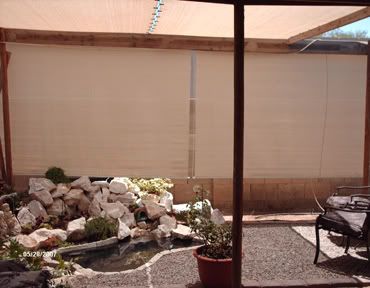 The Pond of relaxation
here is a before shot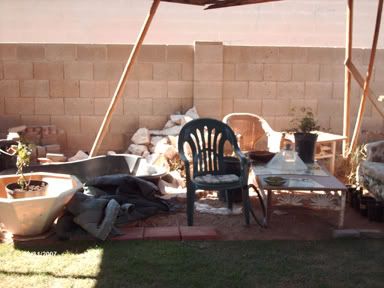 so we have definitely got alot to be proud of :-)
Overall these last few weeks have held some really good SG-1, Some really wonderful scenery and alot of unexpected surprises. Some good, some bad but in the end it all evens out :-)
And my fellow Gaters ....what more can you really ask for than that???? see you on the flipside.............

Posted by Tame :-) @ 11:18 AM | LINK |